We help ambitious businesses fulfil their potential – that's what we're all about. However, up until recently, our website didn't capture this.
As time has passed and we've helped numerous inspiring businesses grow, and cemented our values, we realised that whilst our website does reflect our speed of service – something essential to our customers – it didn't reflect all of who we are.
A website revamp was needed, and so we roped in some long-standing suppliers (who also happen to be clients!) to help us get the ball rolling.
The brief
We've always been fairly happy with the functionality of our website – we believe keeping it simple is critical when it comes to tech. But since working with digital marketing agency Impression and copywriting agency Making You Content, we quickly realised that our website wasn't quite hitting the mark.
Our values are core to what we do. For us, it's not just about supplying a business with new Macs. It's about building relationships with ambitious clients – giving them both the tools and support they need to hit their goals.
The challenge was to capture this ethos and personality on our website, while putting simple steps in place to ensure the user journey was as straightforward and quick as could be.
In a market where the price is often a huge competitive factor, standing out and demonstrating value beyond the specs of a device is crucial. To do this, we knew we needed to get the perfect balance between carefully worded content and well-thought-out aesthetics.
The words: Miranda from Making You Content
"I've been writing for Lease Loop for over a year now. What's always stood out was that the businesses they were working with were very ambitious. Plus, whenever I spoke to them, they would without a doubt always mention Lease Loop's top level of service.
"We saw this first-hand when our agency experienced a break in. James and Danni really helped with minimising business downtime by going above and beyond, dealing with the likes of insurers and sorting out new Macs.
"So when crafting the new website copy, we were keen to get this across. It involved writing the 'Our Purpose' page, succinctly summarising the values to:
We're always honest
We tell you what others don't
We go the extra mile
We're all about simplicity
Why we're different
"We added to the page by explaining exactly why every single interaction matters to Lease Loop, and why it's captivating stories and being part of a business' growth that gets them up in the morning.
"James wanted the copy to put the spotlight on customers as champions, instead of it being all about Lease Loop. The closing sentence for this page sums up how we conveyed this: 'In short, what motivates and influences, is you: your aspirations are our aspirations. And your success becomes our success.'
"We revamped the homepage too, with copy that communicated not only how Lease Loop empowers ambitious businesses but their speed and difference. To get the point across quickly, we ensured the page was very concise. This also meant it would effectively work alongside the web design created by Impression. Following this, we created additional pages such as the 'Guide to Leasing' to provide a clear, and comprehensive, overview for those leasing for the first time."
The design: Charlie from Impression
"We've been working on the Lease Loop brand for some time. As a client ourselves, the original website wasn't what won us over when we started leasing. It was dated and had no reviews, and so came across as a one-man-band that lacked credibility. However, thankfully, we spoke to James and soon realised how trustworthy Lease Loop were.
"James completely flipped our initial perception on its head – he clearly knew what he was talking about and helped us feel 100% comfortable with the process. Lease Loop were really proactive and provided a next-level service. This made them a clear winner – we had spoken to another provider who simply gave us a quote, with no extra value whatsoever.
"We had already implemented Feefo reviews on the website to instil a sense of trust. So when James approached us with a full website revamp brief, that needed to convey not only this but their other values too, we got to work. This involved a discovery session to get to know and understand the Lease Loop brand, as well as their values. We knew that our design needed to reiterate our own experiences with Lease Loop, and also enhance the user journey.
"We created a website where as soon as users landed, they knew what it meant to be a Lease Loop customer and what the business is about. We used a 'burger menu' to make it easier to explore secondary content. There were two audiences – those familiar with leasing, and those new to it. For the former, we ensured the website kept its slick functionality. For the latter, we ensured access to sufficient content so they didn't find the process daunting. Instead, they would be educated on what they needed, and what's involved. Users would already feel that Lease Loop were holding their hand before they'd even contacted them.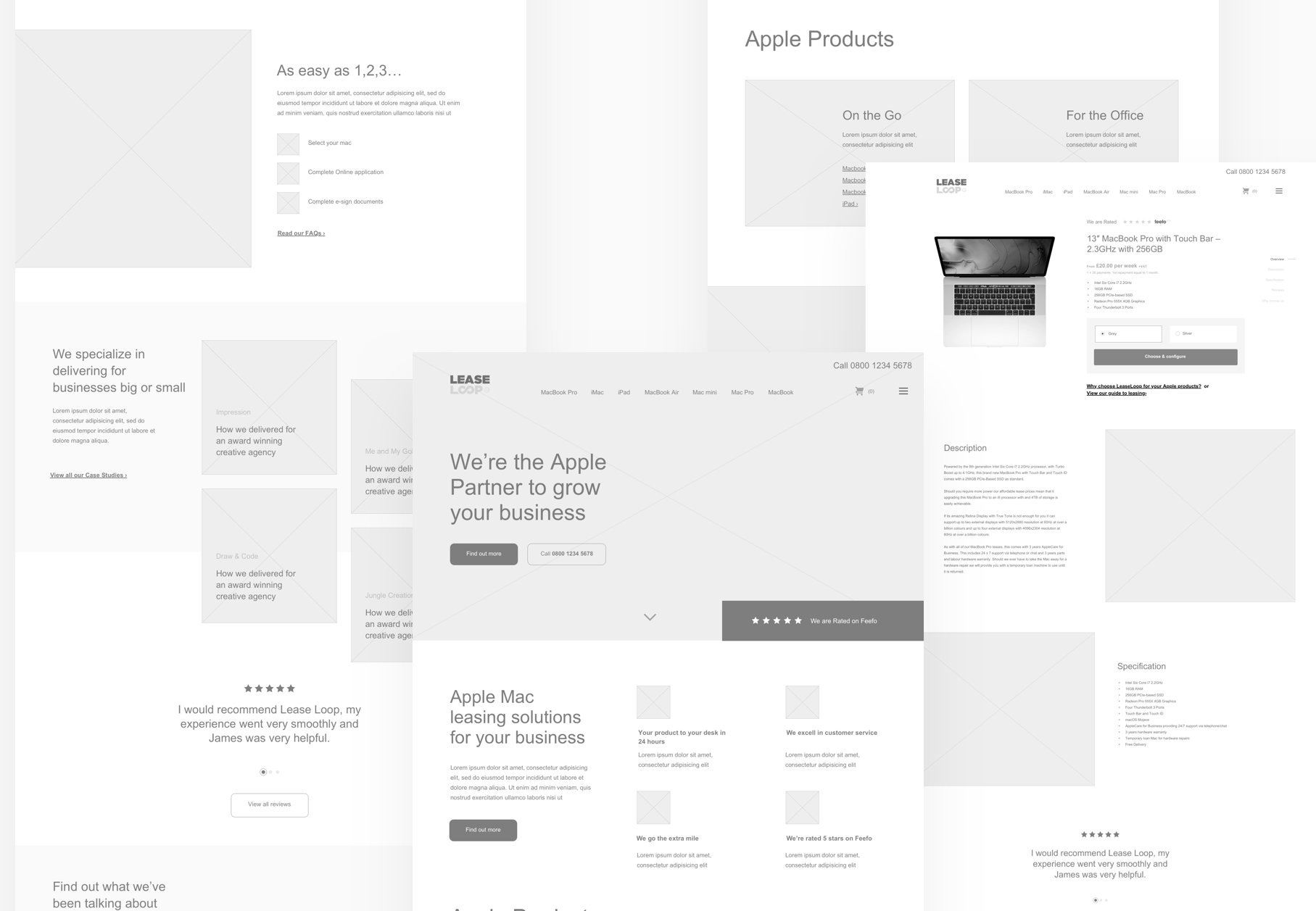 "A huge part of website design is imagery. Having looked at the existing images used on Lease Loop's site, we knew we needed to improve them to make it more inspiring. Essentially, they had used lots of different photos of Macs. We replaced these with images that were not only relevant but reflective of their own audience, so they themselves could see their business working with one that could help them achieve their own goals.
"We did a lot of work in the background too. Their previous website was built poorly, with old plug-ins which often had bugs. We created a bespoke WordPress website from the ground up, providing a heavy amount of customisation to the application process. It keeps the code base cleaner, and maximises performance.
"As a business selling tech, it's essential that the website is really slick and has a high score on Google Lighthouse. We've also implemented some tracking behind-the-scenes. This looks at the lead generation, determining where the audience has come from, how they interacted with the website, and tracking the cost per acquisition which underpins our digital strategy. Through this, we can ensure that Lease Loop achieves the best return on investment on their digital marketing spend.
"The new website has already received incredibly positive results. Since the launch, there has been an increase of 33% users visiting the website, with 40% growth in conversions compared to the old site."
Going forward
Our website is now live, and it's fantastic that it's been a success so far. However, we don't think this will be the last update to it. Our evolution is continuous, and we can't wait to see what the future brings – for both Lease Loop, and the ambitious businesses that we help to achieve their dreams.
If you're an aspiring enterprise who's looking to move forward, then we would love to hear your story. You can get in touch with the Lease Loop team today – just click here.